AlleyOOP Rectangle Trampoline
AlleyOOP Sports® offers the 10′ x 17′ rectangular trampoline, featuring patented VariableBounce™ technology and high-strength 10″ springs for a safe and lively bounce. Our 7′ safety enclosure, with 15+ patented safety innovations, is the strongest in the industry. Easy assembly makes it a top choice for quality and safety.
AlleyOOP Rectangle Trampoline
Engineered for safety with our Variable-Bounce™ Technology and our exclusive patented Triple-Fail-Safe™ Enclosure System
Deep Forest Green Powder Coating – Blends Beautifully with Landscaping
The Variable tension between springs provides a softer landing, smoother feel and more gentle rebound
Overall: A better, Safer Bounce that reduces stress on the body
14 feet in diameter (24% larger play area/jumping surface than a 9′ x 16′ rectangular trampoline). Now available in 12ft as well!
The frame is heavy-duty, 1.9″ diameter, pre-galvanized steel, that is powder coated with a beautiful forest green, textured finish. The frame has a 2mm wall thickness.
The trampoline jumping mat is 35 inches tall, for better ground clearance than most other trampolines. This allows us to use our exclusive 8.5″ Extra-Stretch™ springs for a deeper, more shock-absorbent landing and a greater return bounce.
We use high strength looped straps and steel V-ringsfor connecting the springs. Never buy a trampoline mat with grommets that are punched through the fabric… A very poor design that causes the mat to tear and fail prematurely.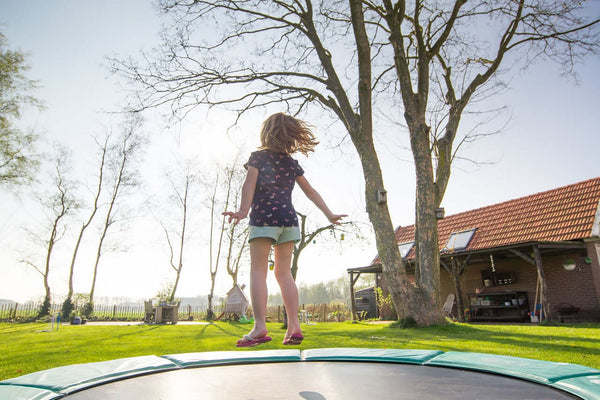 Aside from the 15-plus patented safety and performance innovations that go into this trampoline and enclosure system, one of the main reasons our product stands above the competition is that our trampoline and safety enclosure systems are specifically designed to work in conjunction with each other so that efficiency and effectiveness are optimized. No other company offers a rectangular trampoline and enclosure system that is this complementary, this innovative, this structurally sound, or this attractive. As with all of our AlleyOOP Sports® Trampoline Systems, the Variable-Bounce comes with our strongest safety enclosure, employing our Triple-Fail-Safe™ backup system. It is no mystery why AlleyOOP Sports® has come to be synonymous with safety, innovation, quality, and performance.