Trampoline Accessories & Options
AlleyOOP Sports® accessories can increase the safety and enjoyment of your backyard trampoline. From playing basketball on our innovative ProFlex system to camping out in our Outback Tent, AlleyOOP continues to provide fun and safe ways to enjoy the trampoline experience. Accessories can elevate the achievable performance of the backyard trampoline and truly create a physical entertainment center where children will learn spatial awareness and gain critical body control that will sustain throughout their lives.
Trampoline Accessories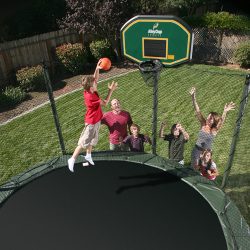 ProFlex Basketball Set
$159.95
Includes backboard, cushioned Hoop w/ heavy duty ProFlex Hardware and 7" inflatable ball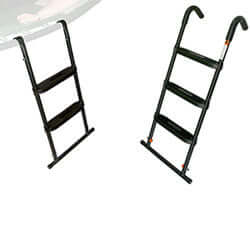 SureStep Ladders
$69.95
Sturdy design with Flat platform steps. Non-permanent installation so ladder can be easily removed to limit access to trampoline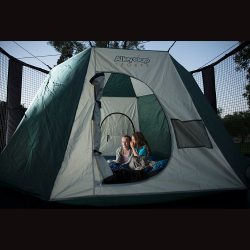 Outback™ Tent
$169.95
GIANT! 11 Feet Across, 5 1/2 Feet High. 3 Windows & 1 Door with Screens & Zippers. Quick & Easy 3 minute Install. For Daytime Adventures or Camping out
Game & Party Pack
$49.95
Develop Stamina, Balance, Coordination, and Agility. Improve Spatial Awareness. Set includes: Illustrated Book of 20 Games, 3 Squishy Balls, 4 Shock Cords, 1 Box of Sidewalk Chalk, and a Whole lot of Fun!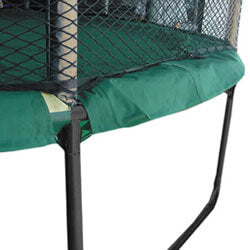 Trampoline Weather Cover
$139.95 (Normal) - $149.95 (Rectangular)
One piece design w/ Velcro® like material and bungee hooks that secure to the frame. Keep leaves, berries, sap and debris off the trampoline bed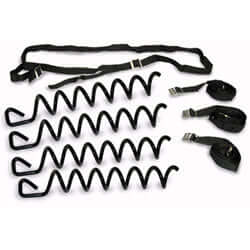 Anchor Kit
$79.95
4 large, heavy-duty "cork-screws" that twist into the ground. Helps prevent strong winds from moving/flipping your trampoline
Giant Fun Ball
$39.95
Safe durable construction Giant 40" when inflated. Fun Fun Fun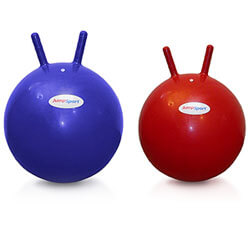 Hoppy Balls
Red $25.95 Blue $29.95
Safe Open-Grip™ handles. Specialized Grip-Bottom™ is perfect for use on the trampoline and on the ground. The only Hop Ball made for trampoline play!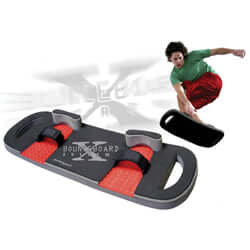 Bounce Board Extreme
$159.95
Waterproof &Adjustable foot straps with heavy duty Velcro®-like closures
Durable, Soft, Flexible, closed cell polyethylene foam board construction. Slip resistant fabric bottom